HughesNet High-Speed Internet Plans
Internet plans starting at $49.99/mo.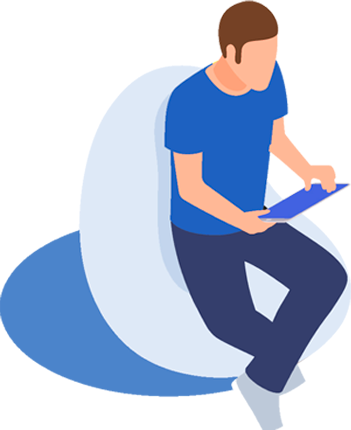 Want To See Deals?
HughesNet
Facts
Powered by the world's highest-capacity broadband satellite, HughesNet delivers reliable satellite internet service to 94% of America. HughesNet internet packages range from 4 Mbps to 25 Mbps, depending on your satellite and plan. With over 1.3 million subscribers, it's the largest satellite internet provider in the US, servicing both rural and suburban areas. If cable or fiber isn't available in your area, HughesNet connects you to the world. ver 60 million people live in rural areas of the United States.
A rural area is often distant from any city boundaries. Farmlands, forested areas, mountainous regions, and pastoral landscapes make up rural America. Rural areas have sparse populations, with houses few and far between.
The low-density population of a rural area means that services such as cable internet are most often unavailable. In these instances, people turn to satellite internet.
One satellite internet provider option is HughesNet. There are several HughesNet plans to choose from that offer different features.
HughesNet offers download speeds up to 25 Mbps. It has upload speeds that reach up to 3 Mbps. According to the FCC, Hughesnet offers broadband speeds.

HughesNet's across-the-board 25 Mbps speeds are more than enough to allow for internet surfing, gaming, and streaming without any buffering problems.
How Does Satellite Internet Service Work?
First, a request is sent from your computer to a satellite that is floating about 22,000 miles up in the atmosphere. This is the optimum altitude to match the rotation of the Earth. The satellite being able to remain in the same spot over the Earth is called geosynchronous orbit.
Next, the satellite contacts the Hughes Network Operations Center. The network operations center (NOC) locates the specific website you've requested.
Last, the website sends the information back to the HughesNet Network Operations Center. It then bounces to the satellite, and finally transfers back to your computer through the HughesNet dish mounted on your property and the modem inside your house.
While the signal travels an extraordinary distance, it takes a mere fraction of a second for the entire process to finish.
What Type of Hughesnet Plans Are There?
HughesNet has internet plans that are transparent and straightforward when it comes to understanding what they offer. Each plan they offer is named after the data cap it comes with. Pretty simple, right?
The one variance you'll find in each plan is the data cap and the price tag of each plan. A more expensive plan doesn't offer higher speeds. You get a higher data cap, which means you have less of a chance of going over your data and then suffering slower internet speeds.
The plans for HughesNet are:
10 GB Plan - Costs $59.99. Has 25 Mbps, and a 10 GB data cap.
20 GB Plan - Costs $69.99. Has 25 Mbps, and a 20 GB data cap.
30 GB Plan - Costs $99.99. Has 25 Mbps, and a 30 GB data cap.
50 GB Plan - Costs $150.00. Has 25 Mbps, and a 50 GB data cap.
Does Hughesnet Have Data Caps?
While HughesNet lists data caps for each of its plans, these caps aren't hard. If you go over your allotted data, you won't find your internet cut off or discovering massive overage charges on your monthly bill.
However, if you do go over your allowed data, you will encounter a soft cap. A soft cap means that your internet speed will slow down.
If you find that you're nearing a data cap soon, HughesNet offers what is known as "data tokens". Data tokens allow you to buy extra GB from month-to-month to tide you over until your data plan renews for the following month.
Hughesnet Data tokens price out as:
3 GB - $9
5 GB - $15
10 GB - $30
25 GB - $75
What Is a Hughesnet Bonus Zone?

HughesNet offers 50 GB of extra data between the times of 2 AM and 8 AM. HughesNet refers to this time as a "bonus zone" and it renews each month.
If you need to download a large file or patch for one of your games, you can schedule it during the bonus zone and not use up any data from your actual plan.
Should You Lease or Purchase Hughesnet Equipment?
To get HughesNet internet service, you must get a satellite antenna and a modem installed. HughesNet offers the option to either lease the equipment or purchase it outright.
If you choose to lease the antenna and modem, it will cost you $14.99 a month. If you decide to purchase the equipment upfront, it will be $449.99.
Another thing to be aware of is that if you are leasing the equipment, you must also pay a $99 activation fee for the service. However, if you purchase your equipment, this fee is waived.
Does HughesNet Have a Contract/Early Termination Fees?
A big yes.
If you cancel your contract before the 24 months have ended, you might face up to $400 for a termination fee. Even if you keep your service for almost the entire two years, but cancel on the 23rd month, you will face a minimum cancellation fee of $85.
The early termination fee goes down the longer you keep the service. HughesNet does say that if you cancel before any equipment has been installed, it will refund you what you paid, and there won't be an early termination fee. That is the only exemption.
For each month that you keep internet service with HughesNet, the fee will decrease by $15.
For example, if you decide to cancel your service three months after the first 90 days, you'll end up paying $355.
It's also worth noting that if you cancel your contract before it has ended, be sure to return your rental equipment on time. If you fail to mail your equipment in within 45 days, you will find yourself charged an additional $300.
That means if you cancel your service right after the first 90 days have ended, and don't manage to return the equipment within the required 45 days, you'll be charged a whopping $700.
What Are Some Common HughesNet Problems?
The most common problem HughesNet has is experiencing slower speeds than advertised.
However, it's important to keep in mind that all satellite internet service providers struggle with this issue. The reason behind this is latency. Occasionally the signal to the satellite in orbit around Earth gets blocked or interrupted due to circumstances outside of the company's control.
What Should You Look for in a Hughesnet Review?
Overall, internet service providers don't tend to score well when it comes to customer service. The American Customer Satisfaction Index (ACSI) report placed HughesNet into its "All Others" category where it scored a 64 out of 100.
HughesNet is neither exceptional nor terrible when it comes to customer service. There are a few options at your disposal should you need to contact customer service. Those options are:
Online Support Center
Support Forum
Facebook
Twitter
If you have to contact customer service, there are a few tips you should keep in mind.
First, get everything in writing. If a representative tells you that you'll get a refund over the phone, ask them to email those details to you. If they can't email you, then write the representative's name down, the date of the phone call, and the quoted amount of refund.
Another tip is to get on live chat or use emails to communicate with a representative. This ensures you have all claims documented.
The last tip you should follow is to be pushy when need be. If a customer service representative isn't being helpful, ask for a manager. Remain polite, but be assertive.
Does HughesNet Offer Bundling Services?
Yes! HughesNet gives you the option to bundle your TV service with DIRECTV or DISH with its satellite internet.
Does HughesNet Gen5 Have Wi-Fi?
Yes, Gen5 comes with built-in Wi-Fi. This means you'll be able to connect your wireless devices with no problem.
There's even an option to have a separate guest Wi-Fi designated just for guests at your home. This separate Wi-Fi helps keep your home network more private and secure.
Which HughesNet Wi-Fi Modem Should You Use?
HughesNet Wi-Fi Modem offers two networks: a 2.4 GHz and 5 GHz. In the list, the 2.4 GHz name will start with "hug2g". The 5 GHz network name will start with "hug5g".
Both are similar but different. Which one you choose will depend upon your home setup and the devices you use.
The 2.4 GHz will work with all wireless devices. It is able to transmit data over greater distances and can pierce through walls to ensure the signal is sent. However, the 2.4 GHz band is also more likely to experience interference, so speeds aren't as high.
The 5 GHz is perfect for newer devices like a laptop, smartphone, or tablet. It struggles more to send a strong signal through solid walls. If you're in a larger house and further away from the modem, your signal strength might be lower than you'd like.
If you have a device that is streaming videos often, like a Roku, you'll want the 5 GHz network, with the assumption you can be close enough to get a strong wireless signal.
Choose a Provider That Suits You
Overall, HughesNet plans are dependable when it comes to how they price out and what you get. HughesNet keeps the prices consistent and doesn't try to pull a price-hike on you after you've been with them for a few months.
They offer faster internet speeds than some satellite providers at decent prices. If you live far out in the country and need a satellite internet provider, HughesNet might be a worthwhile option for you to look into.
You can search through a database of providers if you want to compare packages and prices.
Why Choose
HughesNet?
Faster internet: HughesNet offers high-speed internet with zero hard data limits. It even compresses web content so you experience faster load times and lower data usage. 
Great for rural areas: Are you enjoying a quiet life away from the big city, but still need to check Instagram? HughesNet has you covered. Its professionals will even install the system for you, so there's zero sweat to get started. 
Simple service plans: Choose from one of HughesNet's four simple internet packages to pay for the right amount of internet service for your needs. 
---

Shop HughesNet
Plans Now

Get Started Now
Find high-speed internet plans and broadband providers in your ZIP code.

Average
Speed
Coverage By Download Speed
NA
Coverage By Upload Speed
NA

Coverage By
Download Speed
Coverage Information Not Available

Coverage By
Upload Speed
Coverage Information Not Available

Frequently Asked
Questions
HughesNet is a satellite internet service provider. You're able to get broadband internet speed with HughesNet in most parts of the country. HughesNet uses satellite technology to give a super-fast internet connection that's always on. HughesNet has released a new version of its service, called HughesNet Gen 5.

Get Fast, Reliable Internet with HughesNet
If you go over your monthly data allotment, HughesNet won't cut you off or charge you fees. However, it will reduce your internet speed until the next billing cycle. Be sure to choose a plan that includes enough data so you don't experience data throttling.

Customer
Reviews
(300 Reviews)
"Great salesperson and the service has been amazing so far."
William Sherman

Got a question?
We have the answers. Get in touch with the KonectEaze team now.