AT&T
AT&T High-Speed Internet Plans
Internet plans starting at $40/mo.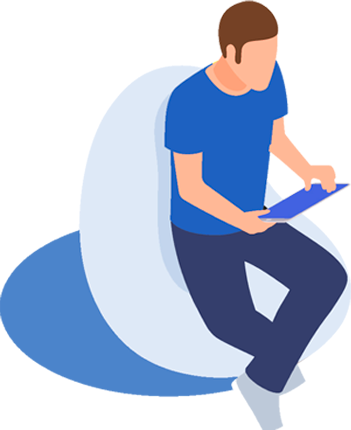 Want To See Deals?
AT&T
Facts
Based in Dallas, Texas, AT&T is the largest telecommunications brand in the world. Although AT&T made its name with telephone service, it's also an internet service provider to 9,000+ ZIP codes across the country. AT&T offers speeds ranging from 4 Mbps to 1,000 Mbps through fiber, DSL, or fixed wireless technology, depending on your area.
Why Choose
AT&T?
Reliability: AT&T's fiberoptic internet is known for its reliability, which is at nearly 100%. The company is also ranked #1 in customer service and satisfaction based on an ACSI survey.
Unlimited data: If you package your internet with a TV plan, or if you sign up for Fiber 1000, you can score unlimited data through AT&T. If you don't want a package deal, you can always purchase unlimited data for $30/mo. That's perfect if you want to stream from multiple devices without limits.
One-stop-shop: If you hate dealing with a handful of companies just to get connected, stop the madness. Sign up with AT&T to package your TV, internet, and mobile phone service in one plan. This can actually score you a discount on your monthly bill, too.
---

Shop AT&T
Plans Now
AT&T Internet Basic 5

1 Mbps




DOWNLOAD SPEED

---

Set Up - NA
Modem Included - Not Included

---

call to order

Call 888-376-0753

What Is HughesNet?
HughesNet is a satellite internet service provider. You're able to get broadband internet speed with HughesNet in most parts of the country. HughesNet uses satellite technology to give a super-fast internet connection that's always on. HughesNet has released a new version of its service, called HughesNet Gen 5.

How Fast Does HughesNet Internet Speed Go?
HughesNet offers download speeds up to 25 Mbps. It has upload speeds that reach up to 3 Mbps. According to the FCC, Hughesnet offers broadband speeds. HughesNet's across-the-board 25 Mbps speeds are more than enough to allow for internet surfing, gaming, and streaming without any buffering problems.

How Much Does Hughesnet Cost?
Unfortunately, satellite internet costs more than other types of internet services like cable or DSL. There's no getting around that. Satellites are large, expensive machines that you must either pay for as part of your monthly statement or buy upfront. If you once lived in the city, you're no doubt accustomed to the superfast speeds of cable and cheaper plans. Living in a rural area, one of the side effects you'll have to come to terms with is that satellite is a bit slower in terms of speed and a little pricier. However, a satellite is often your only choice for an internet provider as well. The cost for HughesNet internet plans ranges from $59.99 a month, all the way up to $150.00 a month. You get 10 GB of data for the cheapest plan and 50 GB of data for the most expensive. There are also two plans that run the mid-range for price and data. There is a 20 GB plan to choose that will cost you $69.99 a month. If you need a tiny bit more data, then there is a 30 GB plan for $99.99 a month. All plans offered by HughesNet, no matter how cheap or expensive, come with 25 Mbps download speeds. The 20 GB plan from HughesNet is the most reasonable in terms of what you get for what you pay.

Does Hughesnet Have Data Caps?
While HughesNet lists data caps for each of its plans, these caps aren't hard. If you go over your allotted data, you won't find your internet cut off or discovering massive overage charges on your monthly bill. However, if you do go over your allowed data, you will encounter a soft cap. A soft cap means that your internet speed will slow down. If you find that you're nearing a data cap soon, HughesNet offers what is known as "data tokens". Data tokens allow you to buy extra GB from month-to-month to tide you over until your data plan renews for the following month.

How Much Data Do You Need With Hughesnet?
How much data your household requires will depend upon how you use the internet. The average household uses around 26 GB of data per month. The average household has between 2 to 4 people. Each person surfs the internet, plays games, and streams videos on a daily basis. These statistics should help give you an idea of how much data you need. If you don't have connected devices (like home security) and don't often stream videos for hours on end, you should be okay with between 10 to 20 GB.

Does HughesNet Have a Contract?
HughesNet does a two-year contract. Unlike many other satellite internet providers which will do a price hike on you after a few months, HughesNet will keep your monthly bill at the exact same price for the entire 24 months of your contract's duration.

Get Started Now
Find high-speed internet plans and broadband providers in your ZIP code.

Average
Speed
Coverage By Download Speed
NA
Coverage By Upload Speed
NA

Coverage By
Download Speed
Coverage Information Not Available

Coverage By
Upload Speed
Coverage Information Not Available

Frequently Asked
Questions

Get Fast, Reliable Internet with AT&T
If you go over your monthly data allotment, HughesNet won't cut you off or charge you fees. However, it will reduce your internet speed until the next billing cycle. Be sure to choose a plan that includes enough data so you don't experience data throttling.

Customer
Reviews
This provider has no reviews

Got a question?
We have the answers. Get in touch with the KonectEaze team now.